At DFK Engineering we specialise in providing comprehensive ground works services that form the foundation for successful construction projects. Ground works are a critical aspect of any construction endeavor, as they involve the initial preparation and excavation of the site, ensuring that the ground is ready for building. Our experienced team of professionals is dedicated to delivering efficient and high-quality ground works solutions tailored to the unique requirements of each project. Ground works encompass a range of activities aimed at preparing a construction site for building. These activities lay the groundwork for the entire construction process and include excavation, site clearance, foundation preparation, drainage installation, and more.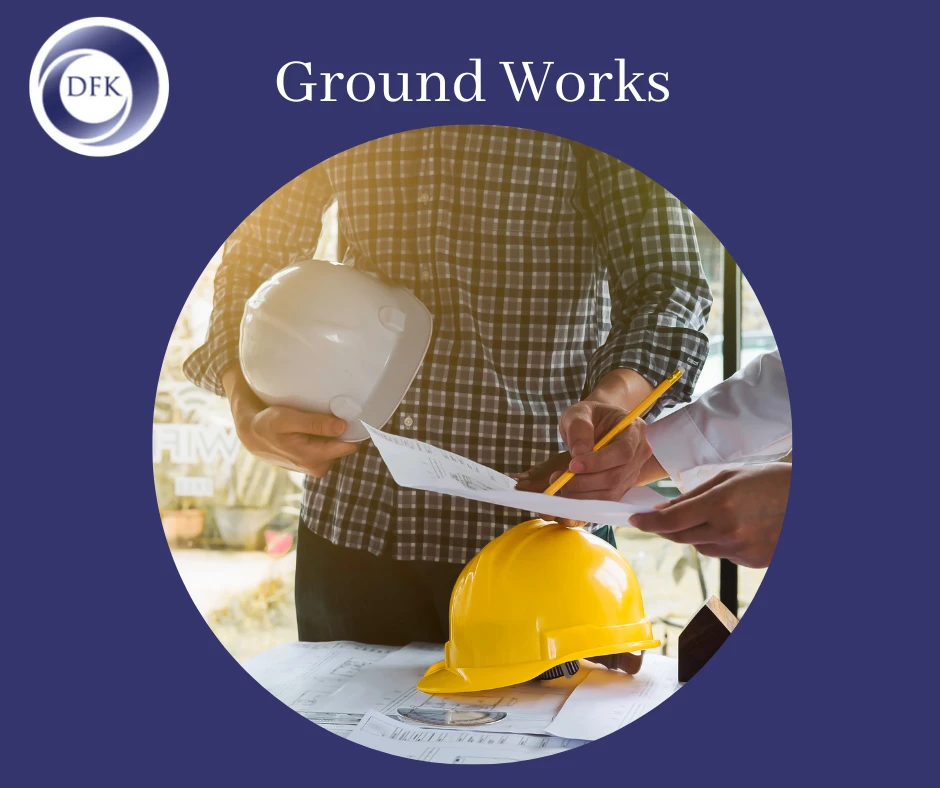 Our Ground Works Services:
 *Site Evaluation and Planning: We assess the site's conditions, taking into account soil composition, water table levels, and other factors to create a strategic plan for effective ground works.
 * Excavation and Earthmoving: Our skilled team employs the latest equipment and techniques to excavate and move earth, ensuring accurate depth and shape for foundations and other structures. 
 *Foundation Construction: We specialise in constructing stable and durable foundations, which are vital for the structural integrity and longevity of your project. 
*Drainage Installation: Proper drainage is essential to prevent water accumulation that can lead to erosion, flooding, and damage. We expertly design and install drainage systems to manage water effectively.
 *Project Management: Our experienced project managers oversee every aspect of the ground works process, ensuring seamless coordination, timely execution, and adherence to safety protocols. 
With years of experience in the industry, our team possesses the knowledge and skills to tackle even the most complex ground works challenges We understand that every project is unique. Our approach involves tailoring our services to meet the specific requirements and goals of each client. We utilize advanced equipment and technology to enhance the efficiency and precision of our ground works operations. Our commitment to quality drives us to deliver impeccable results that exceed expectations and stand the test of time.  We prioritise the safety of our team, clients, and the environment. Our practices adhere to industry standards and regulations. We understand the importance of project timelines. Our efficient processes ensure that ground works are completed within the agreed-upon timeframe. When you partner with DFK Engineers, you're choosing excellence in ground works services. Contact us today to discuss your project and how we can help you lay the groundwork for success.